Canadian Travel Insurance Company Donates Over $11,000 to Red Cross' Typhoon Haiyan Fund
(Richmond, BC, Nov 21, 2013) - Canadian travel insurance company, Travel Underwriters, has donated $11,216 to the Canadian Red Cross' Typhoon Haiyan Fund in support of victims in the Philippines. The company's Filipino employees hosted a relief lunch to collect donations. For Travel Underwriters, whose second largest group of employees is from the Philippines, this disaster hit very close to home.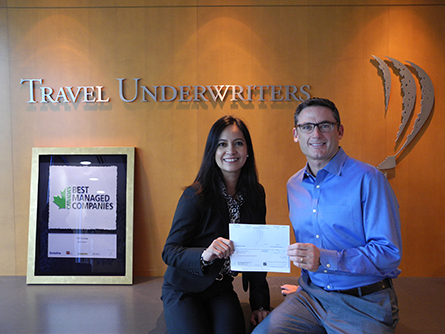 Project Manager Annie Gabaldon's husband was in Manila when news broke of the widespread death and destruction caused by Typhoon Haiyan. Annie waited in fear as he embarked on a journey to find a missing cousin in Tacloban, a city devastated by the typhoon.
"Being from the Philippines, I was deeply worried about friends and family there," says Annie. "When I heard my cousin was missing, I was shattered. Luckily, my husband was able to find her and get her out of danger. But I couldn't stop thinking about all those who weren't so lucky!"
When Annie rallied a group of Filipino employees to host a relief lunch in support of Haiyan victims, Travel Underwriters got on board. Employees' donations of $5 or more to the Canadian Red Cross' Typhoon Haiyan Fund totalled $1,216 which will be matched by the Canadian government. Travel Underwriters then happily contributed an additional $10,000, bringing the total donation to $11,216.
"Supporting those suffering in the aftermath of Haiyan means a lot to us at Travel Underwriters, since this devastation has hit so close to home for many of our employees," says Mike Starko, Executive Director and Chair of the company's Social Responsibility Strategic Initiative Committee. "Our employees have come together when it's most important and we as an organization want to support them as well as their families and friends in the Philippines in this time of need."